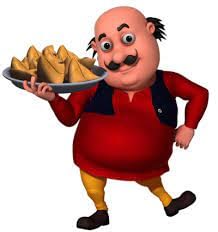 Motu Patlu is an Indian animated sitcom television series written by Niraj Vikram for Nickelodeon India. The series is produced by Cosmos-Maya Studios It is adapted from the classic comic strip Lotpot. It was premiered on 16 October 2012. It focuses on two friends, Motu and Patlu,
He is living in fictional town called Furfuri Nagar, however later in the series they live in another fictional city known as Modern City.
Motu Patlu is directed by Suhas Kadav and produced by Deepa Sahi and Anish J.S. Mehta. The show's theme song, "Motu Aur Patlu Ki Jodi", is composed by Sandesh Shandilya and sung by Sukhwinder Singh. It is one of the most popular children's shows in India.
Motu Patlu Cartoon|Motu Patlu ki Jodi
Characters in Motu Patlu Cartoon 
Motu
Patlu
Dr. Jhatka
Ghasitaram
Inspector Chingum Sir
John
Number 1
Number 2
Chaiwala
Boxer
Khopadi
Motu in Motu patlu Cartoon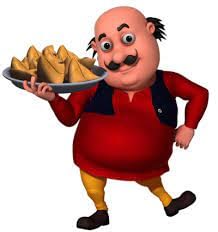 Motu is a plump man ,he likes to eat Samosas which increase motu power, Strength, intelligence, Speed and vision. He is always looking for the easiest way to earn money, have fun and to eat a lot of samosas.
He is a good-natured man who wants to help others.He work with patlu and help other people.
Patlu in Motu Patlu Cartoon
patlu is a skinny man. he is a smartest  guy in city. He like reding newspaper .He is not a Strong.but he help other people.
Dr. Jhatka in motu patlu Cartoon
Dr. Jhatka is an eccentric scientist. In some older episodes he was shown as a dentist. His accent is like Sardar, so he is referred to as Punjabi.
Ghasitaram in motu patlu Cartoon
Ghasitaram is a cowardly person who always claims to have 20 years of experience in various fields but only a few of the experiences are useful to others. He is referred to as Bengali; He hails from Ghatal located in West Midnapore in West Bengal.
Inspector Chingum in Motu Patlu Cartoon
Chingum is a police inspector. He believes that no criminal can escape from him, however he manages to catch them merely by luck and with the help of Motu and Patlu. A Rajinikanth devotee with a strong South Indian accent, Chingum is a solicitous police inspector.
John in motu patlu Cartoon
Motu Patlu Cartoon Episodes Name
| Episode No. | Title | Episode No. | Title | Episode No. | Title |
| --- | --- | --- | --- | --- | --- |
| 1A | "John Banega Don" | 131A | "Motu Patlu Canteen" | 261A | Badshah Chingum |
| 1B | "Pilot Training" | 131B | "The Magical Laptop" | 261B | Choron Ka Raja Chingum |
| 2A | "Scooter Race" | 133A | Motu Patlu Acchey Insaan | 262A | Motu Ka Power Nap |
| 2B | Angry Clouds | 133B | Alien Baby | 262B | Ziddi Motu |
| 3A | Baby Dinosaur | 134A | Motu Patlu Jasoos | 263A | Brake Machine |
| 3B | Antriksh Yatra | 134B | Pizza Boys | 263B | Adbut Gadget |
| 4A | Car Park | 135A | Furfuri Nagar Mein Bhoot | 264A | Scientist Motu Patlu |
| 4B | Time Machine | 135B | Motu The Sun Flower | 264B | Dr Jhatka Ki All Weather Shirt |
| 5A | Animal Instinct | 136A | Courier Company | 265A | Rat World |
| 5B | Diamond Robbery | 136B | John's Mask | 265B | Bees In The Home |
| 6A | Jagtey Raho | 137A | Motu-Patlu Jinn | 266A | Motu The Judge |
| 6B | Bomb Ki Khabar | 137B | Motu-Patlu in Hotel | 266B | Motu Patlu Ki Dosti Vs. Science |
| 7A | Chamatkari Mukut | 138A | Chingum Ek Roop Anek | 267A | Motu Ka Business |
| 7B | Boxer's Baby | 138B | Bhukkad Patlu | 267B | Motu Patlu Air Bus |
| 8A | Super Duper Man | 139A | Sniffer Dog | 268A | Local Game Competition |
| 8B | Race To Rock Garden | 139B | Teleporting Machine | 268B | Jhatka Ka Power Download Gadget |
| 9A | Flying Helmet | 140A | Bacche Motu Patlu | 269A | Chalak Singh Ki Chalaki |
| 9B | Road Roller | 140B | Lie Detector Robot | 269B | The Gang of Thugs |
| 10A | Ice Factory | 141A | Kabaddi Kabaddi | 270A | Children's Day |
| 10B | Photography Competition | 141B | Party Aaj Raat Ko | 270B | Asli Doodh Aur Nakli Doodh |
| 11A | Motu Patlu MBBS | 142A | Motu Patlu in Balloon | 272A | Chotu Ki Car |
| 11B | Mehnat Ki Kamayee | 142B | Motu Ka Darr | 272B | Motu The Director |
| 12A | Lottery | 143A | Motu Ki Khushi | 273A | Furfuri Nagar Tower |
| 12B | Motu The Alien | 143B | Bahadur Motu | 273B | Motu Ke Haath |
| 13A | Future Camera | 144A | Inaam Dus Karod | 274A | Motu Ki Tez Aankhein |
| 13B | Cross Connection | 144B | Jyotishi Motu | 274B | Motu Ki Jaduyee Cheenk |
| 14A | Robot Dog | 145A | Shaitani Zuban | 275A | Doodh Ka Doodh Pani Ka Pani |
| 14B | Motu Banega Don | 145B | Motu Patlu Ki Dukan | 275B | Boxer Ki Akad |
| 15A | Super Murgiyan | 146A | Puncture Shop | 276A | The Magical Crow |
| 15B | Amir Chand Fakir Chand | 146B | Bat in the Town | 276B | Motu Ki Bhavishyavani |
| 16A | Yamraj | 147A | Supersonic Speed Band | 277A | Invisible Oil |
| 16B | FWWE Fight | 147B | Motu Patlu Ki Tow Chain | 277B | John The Dog Painter |
| 17A | Jinn | 148A | Singing Competition | 278A | Motu Ka Cycle Chalana |
| 17B | Murti Ki Khoj | 148B | Action Duplicating Machine | 278B | Motu Ki Haath Ki Safai |
| 18A | Tigerrrr | 149A | The Villain Mask | 279A | Robot Uncle |
| 18B | Ek Thee Heroine | 149B | Chacha Ki Tijori | 279B | Bhuddu No. 1 |
| 19A | Magician | 150A | Alien Calling Machine | 280A | Motu Ka Selfie Shauk |
| 19B | Peacock Fish | 150B | Energy Charger | 280B | The Fake Jinn Lamp |
| 20A | Mela | 151A | Duplicate Chingum | 281A | Ghasitaram Ki Bike |
| 20B | Bhoot Bangla | 151B | The Train | 281B | Motu The Jinn |
| 21A | Trekking | 152A | Dog Show | 282A | Motu Patlu The Gardener |
| 21B | Salim Robot | 152B | King Patlu | 282B | Onions |
| 22A | Black Bull | 153A | Asli Raja Nakli Raja | 283A | Motu Ki Beemari |
| 22B | Kite Competition | 153B | Magical Pencil | 283B | Motu Patlu Baby John |
| 23A | Hawaldar | 154A | Invisible Bomb | 284A | Party Invitation |
| 23B | Bodyguard | 154B | Motu Ke Ghar Ka Renovation | 284B | Motu Bhag Bandar Ayee |
| 24A | Giant Mosquitoes | 155A | Best Friend Award | 285A | Circus Ka Ghoda |
| 24B | Big John | 155B | Motu Patlu Ka Atm | 285B | Ped Wala Baba |
| 25A | Chamatkari Chashma | 156A | Gilli Danda Competition | 286A | Pappe Da Dhaba |
| 25B | Mithai Ki Dukan | 156B | Motu Patlu in Pyramid | 286B | Patlu Robot |
| 26A | Samudri Khajana | 157A | Pirates of Furfuri Nagar | 287A | Motu Ka Laddu |
| 26B | Cricket League | 157B | Invisible John | 287B | Motu The AC |
| 27A | Snow Park | 158A | Mr Gayab | 288A | Motu The Taxi Service |
| 27B | Ant's Land | 158B | Yam Hain Ham | 288B | Motu Ke Achaar |
| 28A | Circus | 159A | Murkh Nagari | 289A | Mr Justice Ka Insaaf |
| 28B | Gulabi Hathi | 159B | Chala Hai Motu Hero Banney | 289B | Moorti Ka Dhammal |
| 29A | Film Producer | 160A | Robotic Tanga | 290A | Doggy Pyar |
| 29B | Soul Change | 160B | Super Star Motu Patlu | 290B | The Watchman |
| 30A | Gold Samosa | 161A | Don Ki Junglee Billian | 290A | Motu Bhaag Peechey Aag |
| 30B | Army | 161B | Flying Bus | 290B | Loss Of Words |
| 31A | Wishing Stone | 162A | Alien Shankh | 291A | John Ka Jaal |
| 31B | Mermaid | 162B | Diamonds in the Train | 291B | Pigeon Courier Service |
| 32A | Dance Competition | 163A | Motu Mobile | 292A | John Ka Jigri Dost |
| 32B | Hero Se Zero | 163B | The Magical Camera | 292B | John Ka Samosa |
| 33A | Rock Band | 164A | Ice Hockey | 293A | Smile Please |
| 33B | Wajan | 164B | Chamatkari Locket | 293B | Chingum Ki Yadddast |
| 34A | The Game | 165A | Chipko Stick Ka Dhamaal | 294A | Chingum Ke Lambe Haath |
| 34B | Lost Island | 165B | Chingam Ki Chori | 294B | The Magical Trees |
| 35A | Jhatka Ki Shaadi | 166A | Fortune Wheel | 295A | Motu Ka Samosa Shauk |
| 35B | Chamtkari Joota | 166B | Dr. Jhatka Ke Dadaji | 295B | John Ka Bhai Jonny |
| 36A | Motu Ka Birthday | 167A | Don Ka Birthday | 296A | John Ki Jungle Safari |
| 36B | Holi | 167B | Dr Jhatka Ka Lazer Cutter | 296B | Dr Jhatka Ki Twister Lattu |
| 37A | Motu Ke Clones | 168A | Message Ka Rahasya | 297A | Furfuri Nagar Ki Diwali |
| 37B | Mummy | 168B | Mayor John | 297B | Chingum Ki Gum |
| 38A | Madari | 169A | Meals on Wheels | 298A | Jhatka Ki Choomantar Gadget |
| 38B | Memory Loss | 169B | Motu Ki Self Defence | 298B | Motu Patlu Ki Nursery |
| 39A | Duplicate Patlu | 170A | Motu Loudspeaker | 299A | Jasoos Motu |
| 39B | Tel Malish | 170B | Motu Patlu Ki Deewar | 299B | Motu Ka Drawing Competition |
| 40A | Ward Boys | 171A | Patlu Ke Haath | 300A | Makdi Ka Jaala |
| 40B | Hero No 1 | 171B | Police Station Main Tabela | 300B | Boxer Ki Neend |
| 41A | Car Mechanic | 172A | Thanda Thanda Cold Cold | 301A | Motu Ka Teerandazi |
| 41B | Reporter | 172B | Roller Skate Thief | 301B | Bolna Mana Hai |
| 42A | Carrot Thief | 173A | John Ki Missiles | 302A | Motu Patlu Ki Roof Repair |
| 42B | Captain Crook | 173B | Badhti Ka Naam Dadhi | 302B | Jumping Jack Motu Patlu |
| 43A | Patlu's Mustache | 174A | Pigeon Paying Guest | 303A | Motu Ki Murgi |
| 43B | Prince Motu | 174B | John's Certificate | 303B | Driver No 1 |
| 44A | Samosaaaaaaaaa | 175A | Lathi Charge | 304A | Motu Patlu Ka Mobile Theatre |
| 44B | Gaint Tree | 175B | Motu Ka Vachan | 304B | Chaalak Naukar |
| 45A | Car Wash | 176A | Mobile Tower | 305A | Kagaz Ka Aadmi |
| 45B | Football Match | 176B | John The Super Hero | 305B | Fighting Zone |
| 46A | Hawai Safar | 177A | Body Control Machine | 306A | John The Hammerman |
| 46B | Samaj Seva | 177B | Joker Motu Patlu | 306B | Rat Attack |
| 47A | Robot Hand | 178A | Madari Ki Rassi | 307A | Motu Patlu Vs. Dinosaur |
| 47B | Shaving Foam | 178B | Denture Alien | 307B | Motu The Chef |
| 48A | Furfuri Nagar And Bank | 179A | Eyes of Motu Patlu | 308A | Motu Patlu Aur Shaitani Putla |
| 48B | Boxing Competition | 179B | Glass Man Alien | 308B | Saapon Ka Hungama |
| 49A | Bin Bulaye Barati | 180A | Motu Patlu Ka Photo Phone | 309A | Motu The Star |
| 49B | Motu Ki Height | 180B | Motu's Friend Yeti | 309B | John Ka Threadmill |
| 50A | Third Eye | 181A | Stone Man | 310A | Dr Jhatka Ka Teleporting Machine |
| 50B | Hungry Motu | 181B | Toys Attack | 310B | Machhliyon Ki Azadi |
| 51A | Makaan Maalik (Updated) | 182A | Ghasitaram The Cloud Man | 311A | Motu's Kathak Dance |
| 51B | Dog Training Center | 182B | Revenge of John | 311B | Safed Haati |
| 52A | Pari Ka Vardan | 183A | Motu Patlu in Mines | 312A | Robot Chingum |
| 52B | Tuition Teacher | 183B | Motu Patlu Ka Aam | 312B | Dhakka Mar |
| 53A | Dragon Motu | 184A | Motu Ke Sapne | 313A | Crying Magician |
| 53B | John Ka Badla | 184B | Furfuri Marathon | 313B | Motu Patlu The Bodyguard of John |
| 54A | Friendship Gift | 185A | Motu Master Chef | 314A | Motu Ki Pitayi |
| 54B | Chote Chote Motu Patlu | 185B | Burey Fasey | 314B | Ichhadhari Bhains |
| 55A | Baby Alien | 186A | John'S Body Suit | 315A | Motu Ka Bachpana |
| 55B | Ek Se Badhkar Ek | 186B | Lakshman Rekha | 315B | Chor Aliens |
| 56A | Office Cleaning | 187A | Motu The Monkey Man | 316A | Motu Ka Bull Dozer |
| 56B | Ruck Motu Ruck | 187B | John Ek Roop Anek | 316B | Motu Ki Train |
| 57A | Fauji Uncle | 188A | Shaitan Murga | 317A | John The Jaldev |
| 57B | Old Car Auction | 188B | John The Alien | 317B | Khazana Khazana |
| 58A | The Golden Goose | 189A | Ajab Gajab Poster | 318A | Motu Ki Bike |
| 58B | Magical Scenery | 189B | Magical Coin | 318B | Motu Ka Doggy |
| 59A | Chotu Ka Home Work | 190A | Chalaak John | 319A | Dr Jhatka Ka Smart Dustbin |
| 59B | Chuha Daud Billi Ayee | 190B | Metor Alien Attack | 319B | Kaidi Chingum |
| 60A | Motu Patlu Ka Dhamaal | 191A | Bahroopiye Patakhey | 320A | Motu Ki Madad |
| 60B | Jhatka Experiment | 191B | Safety Book | 320B | Motu Saves Alien |
| 61A | Health Competition | 192A | John Ka Challenge | 321A | Snake In The Car |
| 61B | John The Gentleman | 192B | Electric Shoes | 321B | Gusse Wali Chai |
| 62A | Snow Man | 193A | Yamraj Ka Ear Phone | 322A | Motu Ki Jaadu Ki Chadi |
| 62B | Gold Coin | 193B | Motu Ki Chheenk | 322B | Motu Aur Sher |
| 63A | John Ka Jaal | 194A | Motu Ki Shadi | 323A | Patluji Ki Dulhania |
| 63B | Sleepy Motu | 194B | John The Mosquito | 323B | John Ka Baadal Bijli |
| 64A | Mandir Ka Khajana | 195A | Phata Poster Nikla Motu | 324A | John Ke Birds |
| 64B | Motu Patlu Ki Shooting | 195B | Dr. Jhatka Ki Ulta Pulta Machine | 324B | Bure Kaam Ka Bura Nateja |
| 65A | Mobike Ride | 196A | Tijori Ka Raaz | 325A | John Ek Behrupia Chor |
| 65B | Motu Ka Jukam | 196B | Patlu Ki Beemari | 325B | Motu Patlu Ki Naukri |
| 66A | Motu Ka Udhar | 197A | Rangeela Baba | 326A | Dr Jhatka Ki Stone Age Machine |
| 66B | Patlu Ki Bull Power | 197B | Jadoogarini Ka Seb (Apple) | 326B | Jhoot Bole Kauwa Kaate |
| 67A | Robot Horse | 198A | Shrinking Machine | 327A | Motu Patlu in Mauritius |
| 67B | Furniture Ki Dukaan | 198B | John Ka Bhoot | 327B | Invisible Cage |
| 68A | Motu Patlu Ka Dhaba | 199A | John The Circus Man | 328A | Kuch Kuch Dikhta Hai |
| 68B | Giant Se Mukabla | 199B | Alien Doll | 328B | Boxer Ki Car |
| 69A | Motu Patlu Ka Hawa Mahal | 200A | Doggy Days Out | 329A | John Ke Bhoot |
| 69B | Motu Ki Dosti | 200B | John Ka Bhookamp | 329B | Chand Pe Makaan |
| 70A | Alien House | 201A | Magical Wrist Watch | 330A | Motu Patlu Ki Painting |
| 70B | Magical Book | 201B | Sachha Mann | 330B | Dr Jhatka Ka Umbrella |
| 71A | African Safari | 202A | Devil's Stone | 331A | John Ka Eye Checkup Camp |
| 71B | The Giant Roses (Updated) | 202B | Anti Theft Medicine | 331B | Motu Ka Film Share Award |
| 72A | Cake Competition | 203A | Karamati Binoculars | 332A | Dr Jhatka Ka Mind Projector |
| 72B | Golf Course | 203B | Lucky Coin | 332B | Motu Patlu Tree Eater Ghost |
| 73A | Alien Ke Samose | 204A | Mehman John | 333A | Maan Na Maan Mein Tera Mehman |
| 73B | Furfuri Nagar Ka Bhoot (Updated) | 204B | Magical Tattoos | 333B | Motu Ka Insaaf |
| 74A | Humpty Dumpty | 205A | Alien Ball | 334A | Boxer Ki Boxing |
| 74B | Magical Flute | 205B | Dayawan Motu | 334B | Dr. Jhatka Ka Mind Printer |
| 75A | Motu Patlu in Space Ship | 206A | Shaitan Murti | 335A | Motu Patlu Aur Lalchi Alien |
| 75B | Fancy Dress | 206B | Bakra | 335B | Chingum Ke Chacha |
| 76A | Shaitan Ice Cubes | 207A | Unbreakable | 336A | Heeron Ki Pagdi |
| 76B | Motu Vs John | 207B | Ear Man Motu | 336B | Motu Ka Pollution |
| 77A | Monkey Kingdom | 208A | Weight Machine | 337A | Motu Ek Murtikar |
| 77B | Motu Patlu in Hotel | 208B | Bold Se Old Laser Pen | 337B | Motu on Demand |
| 78A | Personality Change Machine | 209A | Police Van | 338A | Motu Patlu Ki Interplanet Diwali |
| 78B | Motu Patlu Photo Shop | 209B | Motor Cycle Ka Dhamal | 338B | Diwali Me Samaj Seva |
| 79A | Motu Patlu Aur Bunty Babblu | 210A | Heerey Ki Talash | 339A | Gravity Gel |
| 79B | Lambi Lambi Naak | 210B | Motu Ke Samosey Ki Dukan | 339B | John Ki Deemak |
| 80A | Bura Na Mano Masti Hai | 211A | Lost Island | 340A | Samose Samose Kaise Khaoon |
| 80B | Motu Patlu Ka Makan | 211B | Furfuri Nagar Club | 340B | Dr. Jhatka Ki Lassi |
| 81A | Bijli Gul | 212A | Machine Man | 341A | Motu Ka Robot |
| 81B | Dahi Handi | 212B | Sitar Wala Kungfu Master | 341B | Din Dahade Chori |
| 82A | Golden Butterfly | 213A | Super Duper Fan | 342A | Motu Ki Son Chidiya |
| 82B | Motu Patlu Ka Hawayee Dhaba | 213B | Battery Power | 342B | Patlu Ki Dosti |
| 83A | Animal Park | 214A | Alarm Clock | 343A | Weather Out of Control |
| 83B | Shopping Mall | 214B | Judwa Boxer | 343B | Motu Patlu Ki Secretary |
| 84A | Holi Hai Bhai Holi Hai | 215A | Chingum Ka Farm House | 344A | Patlu Ki Choti |
| 84B | Magic Bag | 215B | Johny Madadgar | 344B | Mermaid Ka Rahasya |
| 85A | Magnetic Motu | 216A | Samosa Vending Machine | 345A | Patlu Ka Chashma Aur Motu Ka Muh |
| 85B | The Kung Fu Master | 216B | Boxing Gloves | 345B | Dr Jhatka Ka Street Signal |
| 86A | Birthday Dhamal | 217A | Bhalu Ka Aatank | 346A | Motu Ka Event Management |
| 86B | Doggy Se Mukabla | 217B | Patlu Pahlwan | 346B | Drone Delievery |
| 87A | Jungle Me Mangal | 218A | Badal Mein Ghar | 347A | Inspired Motu |
| 87B | Hungama Ho Gaya | 218B | Motu Ke Baal | 347B | John Ke Aliens |
| 88A | Future News Tab | 219A | Spin Rotator | 348A | Motu Patlu Ki Advertising Agency |
| 88B | Dog in the Well | 219B | Laal Pari | 348B | John Ka Self Damage Spray |
| 89A | Shaadi Ka Dhamaal | 220A | Daldali Teer | 349A | Motu Ka Teddy Bear |
| 89B | Alien Patlu | 220B | Amusement Park Mein Dhamal | 349B | Magnetic Ball |
| 90A | Motu Ka Sapna | 221A | Jadoogarni Ka Jhadu | 350A | Motu Patlu Ka Dhaba |
| 90B | Motu Patlu in Antartica | 221B | Jadoogar Joker | 350B | Udtha Motu |
| 91A | Intelligent Motu | 222A | Patlu Ki Race | 351A | Motu The Encyclopedia |
| 91B | Cycle Race | 222B | Inspector Patlu | 351B | Flat Ki Talash |
| 92A | Buzo Ko Bachana Hai | 223A | Motu Patlu Ball Game | 352A | Motu Patlu Ki Help Agency |
| 92B | Motu Balloon | 223B | Motu Ka Rona | 352B | Ek Kadam Aage |
| 93A | Timepass | 224A | Motu Ka Gussa | 353A | Ghasitaram Ki Shadi |
| 93B | The Electric Man | 224B | Motu Ki Roshni | 353B | Motu The Diaper Man |
| 94A | Magical Scissors | 225A | Kushti Ka Mukabla | 354A | Military Land Ka Sauda |
| 94B | The Devil Toothpaste | 225B | Motu Patlu Ki Gift | 354B | Motu Ka Papa Ka Bungalow |
| 95A | John's Birthday Gift | 226A | Dr Jhatka Ki Washing Machine | 355A | Motu Ke Bahaney |
| 95B | Slow Motion Gadget | 226B | Diamonds And Balloons | 355B | Jhatka Kidnapped in Modern City |
| 96A | Don The Magician | 227A | Wo Bhi Kya Din Thhe | 356A | John Ka Sneezing Spray |
| 96B | The Life of Rat | 227B | Motu Patlu in Frog World | 356B | Jadoogar Phislekar Ka Bungalow |
| 97A | Aadiwasi Ka Mukut | 228A | Hum Chor Nahin | 357A | Aliens on Call |
| 97B | Robot of Furfuri Nagar | 228B | Donkey With Horn | 357B | John The ATM Thief |
| 98A | Motu Patlu Ki Jodi | 229A | Ajnabi Chor | 358A | Don Ka Master Plan |
| 98B | Bravery Competition | 229B | Motu Ki Umar | 358B | Tricycle Race |
| 99A | Ek Jinn Do Malik | 230A | John Ka Rumaal | 359A | Jaadu Ki Jhappi |
| 99B | The Bulk | 230B | Power of Imagination | 359B | Alien Ka Khana |
| 100A | Rocky Ka Ghar | 231A | Shocking News Ka Shock | 360A | Kripalu Baba |
| 100B | Cricket Match | 231B | Jyotishi Tota | 360B | Dr Jhatka's Car on Space |
| 101A | The Battle of Tree | 232A | Bubblegum Bomb | 361A | Motu Ki Cloud Agency |
| 101B | Naagon Se Panga | 232B | Motu Patlu The Truck Driver | 361B | Motu Ka Dost |
| 102A | Cylinder Ki Sawaari | 233A | Jailer Alien | 362A | Motu Ka Marriage Dance |
| 102 B | Positive Motu | 233B | Motu Patlu The Plumber | 362B | Picnic Party |
| 103 A | The Treasure Hunt | 234A | Khamosh Motu | 363A | Secret File |
| 103 B | John and the Hen | 234B | Hands Up Gun | 363B | Laughter Club Ka Asar |
| 104 A | Motu The Scientist | 235A | TV Antenna | 364A | John Ka Mission Samosa |
| 104 B | Human Remote Control | 235B | Motu The Super Dog Man | 364B | Jhatka Ki Cloud Car |
| 105 A | Motu Patlu Ki Car | 236A | Alien Chasma | 365A | Motu Patlu Ki Watch Tower |
| 105 B | The Revenge of Crows | 236B | Horn Please | 365B | Safayee Abhiyan |
| 106 A | The Golden Chariot | 237A | Adventure of Mansi And Akaash | 366A | Ching Chang Ka Mukut |
| 106 B | Auto Rikshaw | 237B | Motu Patlu in Jail | 366B | Motu Patlu's Air Taxi |
| 107 A | Water Problem | 238A | Baazon Se Takkar | 367A | Motu Ka Khazana |
| 107 B | Alien Hat | 238B | Guru Ho Ja Shuru | 367B | Every Man Is A Police Man |
| 108 A | Wish Point | 239A | Motu Patlu Aur Madhumakkhi | 368A | Motu Patlu Morcha |
| 108 B | Dhongi Jyotishi | 239B | Animal Converting Gadget | 368B | Motu Patlu Ki Marathon |
| 109 A | Motu Patlu The Fire Fighter | 240A | Jaadui Anguthi | 369A | Blue Fire |
| 109 B | The Magical Album | 240B | John Ki Chaal Motu Patlu Behal | 369B | Boxer's Car from Modern City |
| 110 A | Tabela | 241A | Khajaney Ki Taslash | 370A | Motu Ka Billiards |
| 110 B | Traffic Police | 241B | Motu Ka Phone Ka Shauk | 370B | Hero Don |
| 111 A | Swimming Pool | 242A | Na Kehna Mana Hai | 371A | Machharon Ka Humla |
| 111 B | Rupya Dus Karod | 242B | Dr Jhatka Ki Fighting Machine | 371B | John The Jalpari |
| 112 A | The Smart Missiles | 243A | Motu Patlu Pareshan | 372A | Motu The Radio Jockey |
| 112 B | Athwa Ajooba | 243B | John's Air Line | 372B | Motu Likes Dancing |
| 113 A | Fire Ball Aliens | 244A | Chingum Hi Chingum | 373A | Alien Mirror |
| 113 B | Patakhey Ki Dukan | 244B | John The Robot | 373B | Monkey Trouble |
| 114 A | Yog Guru Motu | 245A | The Scientist Neighbour | 374A | Nagmani Wala Donkey |
| 114 B | Satellite Patlu | 245B | Naughty Motu | 374B | Motu The Jungle King |
| 115 A | House Cleaning | 246A | Motu Eraser | 375A | Mayor Ka Election |
| 115 B | Samose Wali Murgi | 246B | John Ek Icchhadhari Naag | 375B | John Ki Sun Cream |
| 116 A | Ants Attack | 247A | John Shrinks Motu Patlu | 376A | Greedy Dog |
| 116 B | Tiger John | 247B | Bhullakad Motu | 376B | Lungi Dance |
| 117 A | Sevak John | 248A | Motu The Roller Skate Coach | 377A | Pet's Home |
| 117 B | Bahaduri Puraskar | 248B | Motu The Grass Eater | 377B | Panthers at Modern City |
| 118A | Motu Ki Poonch | 249A | Motu The Running Man | 378A | Social Media |
| 118B | Mermaid Patlu | 249B | Motu Patlu The Best Commandos | 378B | Motu Ke Bol |
| 119 A | Baar Baar Lagataar | 250A | Motu The King of Mummies | 379A | Motu Patlu The Bus Driver |
| 119 B | April Fool | 250B | Motu Ke Andey | 379B | Motu Ka Lazer Power |
| 120 A | Motu Ka Gadha | 251A | Remote Control | 380A | John The Kid |
| 120B | Motu Ka Commitment | 251B | Panni Ka Darr | 380B | Motu Ka Fan |
| 121A | Colour Changing Camera | 252A | Motu The Alien | 381A | John Ka Gas Cylinder |
| 121B | Khatrey Ki Ghanti | 252B | John The Bee Man | 381B | Ghoose Wala Baba |
| 122A | Kal Karey So Aaj Kar | 253A | John Ka Body Guard | 382A | Motu Patlu Ki Dairy |
| 122B | Bada Kabutar | 253B | Helpline | 382B | John The Power Snatcher |
| 123A | Mimicry Parrot | 254A | Good Luck – Bad Luck | 383A | Motu Ka Bank Loan |
| 123B | Motu Patlu Ki Bus | 254B | The Crystal Camera | 383B | Motu Ka Jaadu |
| 124A | Dost No. 1 | 255A | Bahadur No. 1 | 384A | John Ka Snake |
| 124B | Motu Ka Smart Phone | 255B | Motu Ke Sawal | 384B | Dr Jhatka Ki Furtili Chai |
| 125A | Furfuri Nagar Ka Mayor | 256A | The Danger Man | 385A | Motu Ki Pagdi |
| 125B | Motu Twister | 256B | The Special Armour Suit | 385B | Motu Patlu Omlete Pav Shop |
| 126A | Motu Patlu Kidnapped | 257A | The Agreement | 386A | Jhatka Ka Eye Clinic |
| 126B | Motu Patlu Ka Ghar | 257B | Motu Patlu Laundry Shop | 386B | Motu The Pilot |
| 127A | Commando Training | 258A | Motu – Akbar The Great | 387A | John The Kite Man |
| 127B | Bolney Wali Moorti | 258B | The Golden Aliens | 387B | Chotu Ka Project |
| 128A | The Magical Bells | 259A | Motu The Doctor | 388A | Alien Bracelet |
| 128B | Buri Nazar Waaley Tera Munh Laal | 259B | Machchar in the Car | 388B | Motu Ki Bachat |
| 129A | John The Bodyguard | 260A | The Root Attack | 389A | Motu Ki Mausi Vs. John Ki Mausi |
| 129B | The Evil Goggles | 260B | Bhooton Ki Lottery | 389B | John Ke Robot Tree |
| 130A | Motu The King of Tribe | 261A | The Flying Lift | 390A | Boxer Ki Nayee Car |
| 130B | Slippery Motu | 261B | Hansna Zaroori Hai | 390B | Motu Ka Fear Factor |