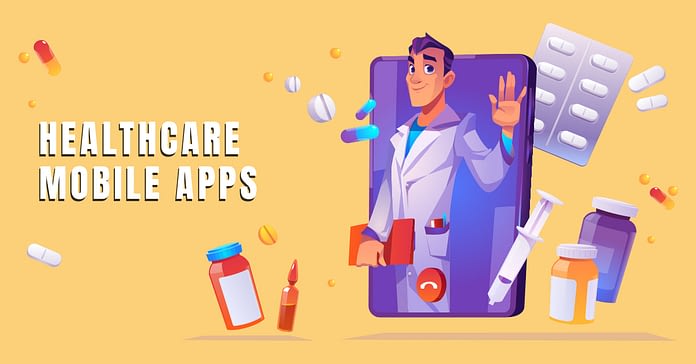 AI is leaving a remarkable footprint in the healthcare industry today. According to a study, the global market of AI in healthcare will bounce at a CAGR of 38.4% from 2022 to 2030. It is a new way to deliver better medical facilities and build more brilliant healthcare mobile apps.
Nowadays, even organizations associated with healthcare services are advancing their ways of diagnosing and handling patients' data using AI. They primarily focus on improving the quality of life and offer diagnoses of some diseases with AI-enabled devices. Mobile app development Companies also play a crucial role in implementing AI in healthcare. If you are still wondering if it's far off from revolutionizing the healthcare sector, go through this real-world example of AI in healthcare.
1) AI Assistant for Administrative Work
Dealing with administrative work consumes plenty of time. Physicians spend extra 1-2 hours on desks and managing electronic health records works which can easily automate with the help of AI Mobile apps. One such example is Olive which boosts operational efficiency by automating administrative work. Thus, allowing workers in your hospital to focus on pressing tasks.
2) Chatbots
Globally, the market size of healthcare chatbots is growing at a CAGR of 14.5% from 2019 to 2026. Today, healthcare chatbots are supported with natural language processing capabilities that enable them to handle communication with patients. It can also assist in responding to basic health-related queries instantly. Babylon Chatbot is the best example of a healthcare chatbot. It is being used widely by organizations.
3) Robot-Assisted Surgery
It may sound new, but the first robot-assisted surgery was performed in the 1980s. The first ever surgical robot PUMA 560, helped in stereotaxic surgery. At the latest, Da Vinci robotic technology dominates the healthcare industry as it can perform delicate incisions without causing any trouble. Thanks to Intuitive for coming up with an app for Da Vinci surgeons.
4) Digital Consultation
No more do you have to visit a doctor for minor health problems. Digital consultation has become a reality without the involvement of doctors. For instance, SkinVision online app can automatically detect skin problems and recommend various treatment options.
5) Cybersecurity
Hospitals must ensure that it keeps the patient's data secure so that cybercrooks conduct no malicious activity. This is why cybersecurity has become essential, and many healthcare apps are there to safeguard medical and patient records.
6) Image Diagnosis
Storing medical images is a complex issue, but AI-powered applications in healthcare have made it simple. Moreover, it has been enhanced with the next generation imaging technology like CureMetrix, Volpara Solutions, and so on.
7) Accuration
A minor error can lead to dangerous consequences when it comes to the treatment of a patient. An AI app loaded with machine learning technology can help ensure the treatment process remains accurate.
8) Health Monitoring
Artificial intelligence empowers healthcare apps to monitor patients' health for 24×7 hours. They can track heart rate, pulse rate, cholesterol burning, and other relevant data. Sometimes, it also sends an alert in case of emergency, such as with the case of Apple wearables.
9) Medical Management
You won't believe it, but webcams powered with AI are indeed equipped in smartphones to Cross check the patient's behavior in medicine consumption as prescribed.
10) Smoothens Workflow
Because AI is doing the thing on behalf of a human, no possibility of error will be there. Consequently, this will turn the workflow in a healthcare organization smoother.
11) Connected Machines
Hospitals and clinics rely on connected devices that share information. AI can facilitate this process simpler and smoother.
12) Fraud Prevention
Several AI healthcare apps help prevent financial fraud by securing the online payment facility. Integration to third-party payment gateways becomes a safer option.
13) Preliminary Diagnosis
During the Covid-19 pandemic, preliminary diagnosis showed some excellent results. AI4COVID-1 was one such app for analyzing the symptoms using an AI engine in the cloud. It provides back the results in just 2 minutes.
14) Precision Medicine
AI is innovating and enhancing the accuracy of precision medicine. It can prove promising in preventing diseases, diagnosis, and personalized treatment. However, data collection is the basis of precision medicine, and healthcare apps are aiding in accessing the data of the masses.
15) Drug Discovery
AI healthcare apps are playing a prominent role in drug discovery too. As a result, major drug manufacturers like Sanofi and Genetech are joining AI Integrated Mobile Application development companies. This will eliminate the traditional approach of trial and error and assist in performing rapid tests of compounds.
Future Advantages of AI in Healthcare App Development.
Healthcare executives are starting to notice mobile app development services for healthcare and its potential in the healthcare industry when coupled with Artificial Intelligence. Because of this, there's a sense that a digital transformation is imminent, including introducing innovative AI capabilities. An AI development company should look up its game to create modern applications.